________________________________________________
Place Order Below
Delivery usually take place every second Wednesday (middle & end of month). So depending on when you order, it may take up to two weeks. Cut off times for that week's delivery is the prior week, Friday.
MEDIUM 10-PACK
R 550
R55 / smoothie
LARGE 10-PACK
R 650
R65 / smoothie
MEDIUM 20-PACK
R 1100
R55 / smoothie
LARGE 20-PACK
R 1300
R65 / smoothie
For guidance, our "average" customer orders a 20-pack p/month, this would cover one smoothie per business day in the month of one person.
But we know that you're not "average" and neither are our smoothies; go for 30+ 😜
Soil-d Smoothies
Regular price
Sale price
R 550.00
Unit price
per
Sale
Sold out
Receive a 10% discount on One-time purchases worth R1000.00+
WHOLESOME INGREDIENTS
With a combination of over 15 POWER INGREDIENTS, your body will be thanking you for giving it the fuel it deserves to perform daily tasks at its highest potential.
MACRO NUTRIENT BALANCE
The primary macro nutrients; Protein, Carbs and Fats that make up your diet are not all processed or made equal. Soil-d provides high quality, well-balanced and measured Macros to keep you on track.
MICRONUTRIENT BALANCE
Micros are vitamins and minerals needed by the body. Their impact on a body's health are critical to performing a range of functions. Soil-d smoothies are packed with micro-nutrients straight from their raw source.
Share
View full details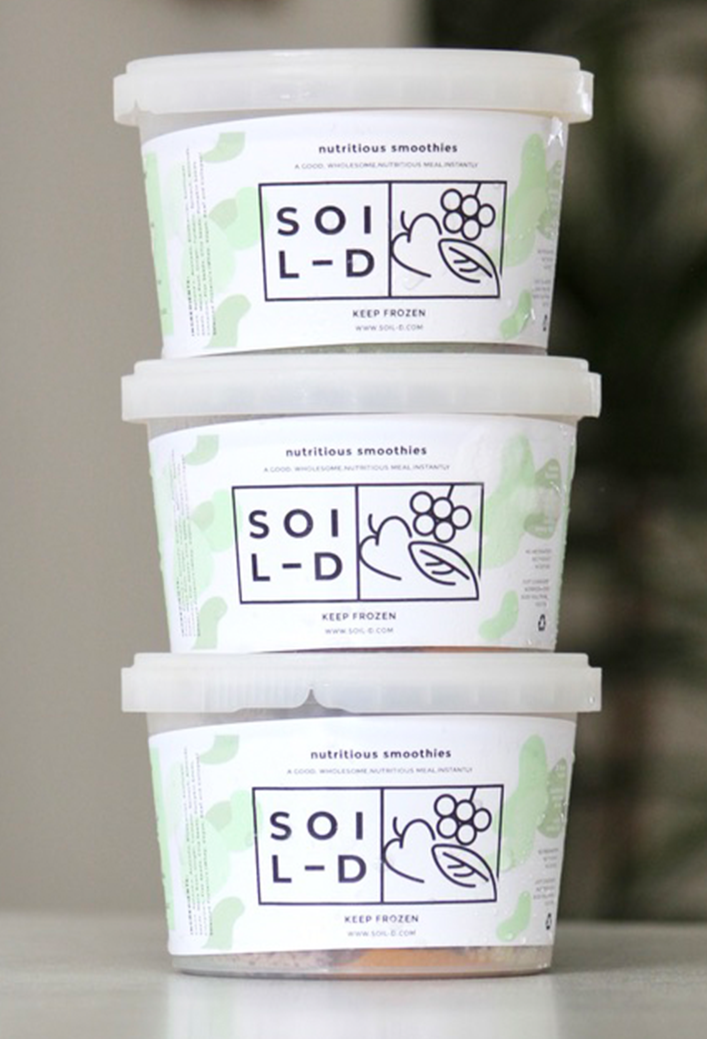 Q & A
How Does a Subscription Discount work?
After your first purchase, your receive an email giving you the opportunity to order again in future and sign up to a subscription service which will provide you with a 15% discount for subscribing. We do not run a debit order on your account, all that will happen is you will receive an automated email every 15days or monthly (depending on your choice) with a checkout link to a cart including your previous order. That allows you to easily buy-again, or skip that order if you still have some in the freezer.
What's delivery like?
Our delivery takes place twice per month; one in the middle and one at the end of the month. We currently only deliver to Cape Town and surrounding areas however we'll let you know as soon as we go National! We can't wait to share Soil-d with everyone – watch this space.
I'm picky with what I eat , can we chat about the ingredients?
Ah…yeah! That's what we are about! We watch every single gram of the ingredients that go into these smoothies. Contact us to change things up or swap things out – we've got you covered. Can't do nuts, no problem – let us know. Need to tell your wife you are eating your spinach but your gut can't stand it? Hit us up, we'll help you out.
Are these smoothies Paleo and Vegan Friendly?
The base products are yes, the proteins that you add however could sway you. Vegans – stick to the Vegan protein, Paleo – stick to collagen or beef protein.
Why so many ingredients? I could just buy a regular smoothie?
Go for it, you will just remain a regular human. Check out the benefits of every single ingredient, click on the links, do some reading and you'll quickly see what separates us from the rest. Every ingredient has a powerful purpose to fulfil.
Do I need a specific blender to blend it all up?
Nope, we have designed it in a way that it caters for all types of blenders.
need to add anything to the frozen ingredients before blending?
Yes! Just add some water/milk of choice before you blend. We recommend 400ml of water/milk for the medium size smoothie and 500ml to the large but find a consistency that you enjoy!
Got an unaswered question? Ask us!